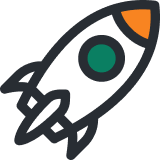 Mission
To make daily easier by providing modern convenience.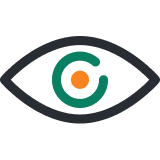 Vision
Our vision is to be the best retailer of convenience for emerging markets.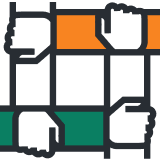 Teamwork
We foster an environment of synergy to attain the goals of the organization through active participation and mutual respect.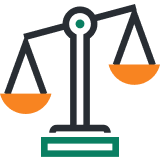 Integrity
We are honest and trustworthy to our fellow employees, customers and business partners.
Reliability
We deliver what we promise.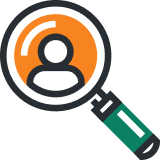 Customer Focus
We put our customer first.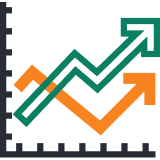 Data-driven
We make decisions based on data.
7-Eleven Philippines Milestones
1982

Philippine Seven Corporation (PSC) is established and signs its master license to operate 7-Eleven stores in the country.
1984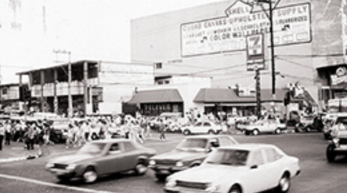 The first 7-Eleven store opens at the corner of Edsa and Kamias, Quezon City
1989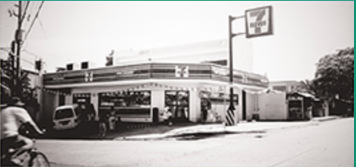 This year marks the first year PSC turns a profit with a total of 9 stores in operation.
1998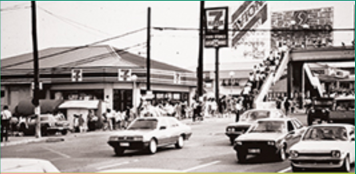 PSC, now with over 100 stores, launches its initial public offering, with shares offered at PHP4.40.
2012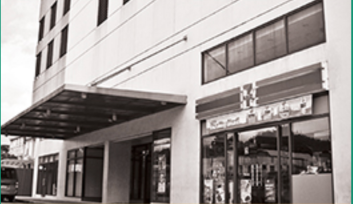 PSC opens its 711th store in the country.
The First 7 Years
On October 26, 1982, Philippine Seven Corp. (PSC) acquired the license agreement to use the 7-Eleven Convenience Store system in the entire Philippines from Southland Corporation of Dallas, Texas. After a month, PSC was registered with SEC on 29 November 1982. The incorporators were Jose T. Pardo, Vicente T. Paterno and Francisco R. Sibal. The company's chief mission was to introduce an entirely new retailing concept to the Filipino consumers, i.e. operating a chain of 24-hours convenience stores. The first corporate office was located at the ninth floor of the Century Tower building in Salcedo Village, Makati City.
In order to apply Southland technology in all phases of managing a 7-Eleven convenience store, PSC sent five of its employees to various Southland installations in the US. The so-called Five-Man Team was consisted by Francisco R. Sibal, Executive Vice President; Ramon de Jesus, General Manager; Jose Blanch, Merchandising Manager; Wilfredo Villanueva, Accounting Manager; and Teodoro Wenceslao, Store Operations Manager. They left on February 15, 1983 to undergo a five-week in-depth training in their respective fields. Upon their return to the country, the Five-Man Team immediately set out to practice what they've learned from the functional training: site selection, design and construction of the first 7-Eleven store, negotiation with suppliers, ordering of equipments, recruitment and training of first batch of employees.
The assassination of Ninoy Aquino at the Manila International Airport on August 21, 1983 triggered the steady deterioration of the economic and political situation in the country. In spite of the bleak state of the market, PSC decided to proceed with the 7-Eleven project. On this account, the company needed fresh capital to build its first two stores. The Board of Directors increased their respective equity contributions in PSC and invited two outstanding businessmen, Mr. Jorge L. Araneta and Mr. Ernesto B. Rufino Jr., to become new shareholders and directors of PSC.
Despite the aggravating political and economic adversities, PSC gamely opened its first 7-Eleven convenience store, located at the corner of EDSA and Kamias Streets in Kamuning, Quezon City, on February 29, 1984. This store proved to be a tough one as it weathered all types of calamities, the EDSA revolution, and coup'd'etats. The second 7-Eleven convenience store was opened at President Ave., BF Homes, Parañaque, which was adjacent to the entrance of a posh subdivision, in April 1984. Having been able to open two stores within the same year, PSC was able to make necessary comparisons in the operations of its stores. It has learned that the primary customers of 7-Eleven stores came from the middle class: the salaried, busy employee who preferred a quick fix, while on his/her way home or to the office.
Because PSC steadily lost money during the years of 1984 to 1985, and due to the outrageous impossibility of securing bank loans, Francis R. Sibal was compelled to sell his share in the company and relinquish his responsibilities as executive vice president and managing director. His duties as Managing director was assumed by Mr. Vicente Paterno, while his responsibility for external affairs was taken over by Mr. Jose T. Pardo.
To infuse additional capital into the company, PSC sought the assistance of a friendly large Philippine organization who later offered a substantial semi equity term loan. Because of this, the company had adequate funds to open its third 7-Eleven convenience store at the corner of Harrison and Libertad Streets in Pasay City in October 1985, and patterned it to the characteristics of the Kamias branch. Management also came up with a clever leasing scheme wherein the lender participates in store profit when an individual store achieves higher than target sales volume. This was an effective way to source out funds for the construction of more stores. The first 7-Eleven Convenience Store built through this scheme was the branch located in Nagtahan Rotonda, at Santa Mesa, Manila.
On May 19, 1988, PSC's sister company, Philippine Seven Properties Corporation (PSPC) was registered with SEC, and its incorporators were Manuel Agustines, Jorge Araneta, Jose Pardo, Vicente Paterno, and Alfredo Ramos. PSPC undermined the difficulties posed by the Constitution, and made it easier for PSC to raise money through acceptance of foreign and corporate investments. PSPC was able to successfully generate additional funds which were used by PSC in the construction of six stores in 1988, and five stores in 1989. Indeed, a tremendous blast of enthusiastic action from PSC Management.
Though still inexperienced in the field of the convenience store industry, PSC showed remarkable results. In fact, according to Southland's technical representatives, PSC's 7-Eleven stores compared favorably with other 7-Eleven stores anywhere in the world. The stores were clean, comfortable, and the ambience was very inviting and pleasant. Surely, the company has learned its lessons well.