Win a Ford Fiesta and other exciting prizes in 7-Eleven's Ticket to Ride promo!
PROMO MECHANICS:
1. Get one (1) 7-Eleven® puzzle ticket printed on the receipt with every P50 purchase from 7-Eleven® (except ICT cards and bills payment).

Example:
P50 = (1) 7-Eleven® puzzle ticket
P100 = (2) 7-Eleven® puzzle tickets

2. A puzzle coupon contains one (1) of three (3) parts of a photo of an object. Collect three (3) puzzle tickets to complete a photo and win the featured object.

*Note that for the Ford Fiesta Cars, Matching Tickets must also have the same sponsor logoat the bottom. There will be 6 sponsor logos which will appear, namely: San Miguel, Pepsi, Selecta, Coke, Del Monte and Pocari Sweat.

EXAMPLE: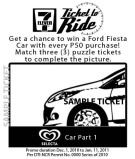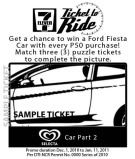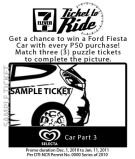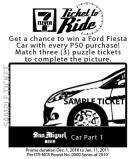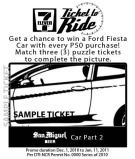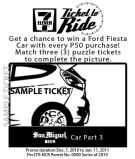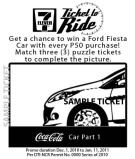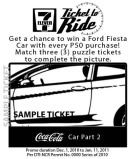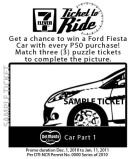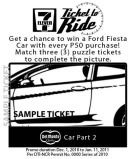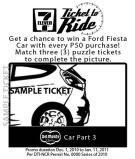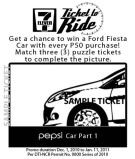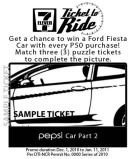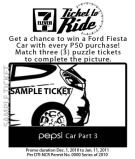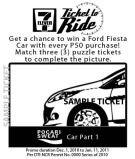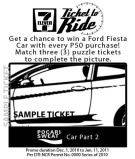 3. Prizes to be won are as follows:

Minor Prizes:
a. Selecta Cornetto (any variant)
b. Del Monte Fit n right (any variant)
c. Pepsi in Can
d. Coke in Can
e. Lifedrink (any variant)
f. Wrigley's Doublemint Gum
g. C2 Green Tea (any variant)
h. 100 Plus Isotonic Drink
i. Kitkat bar 4s

Major Prizes:
a. Ten (10) 32G Apple I-pad units
b. Six (6) Ford Fiesta cars, 1.5L AT

4. To claim minor prizes, present all 3 original puzzle tickets of the same photo at any 7-Eleven® store for verification. Once verified, the prize may be claimed at the store.

5. To claim major prizes and receive specific details on how to do so, contact the Promo Hotline (02) 547-0512 from Monday to Friday from 9am to 6pm. Afterwards, the following should be done:

a. Fax winning puzzle tickets to 705-5291 or email to customercare@7-eleven.com.ph.
b. Wait for a call from a 7-Eleven® representative within 2 weeks from receipt of the documents.

6. On the day of the awarding, surrender the winning puzzle tickets attached to the official receipts and present two (2) valid IDs (Driver's License, SSS/GSIS, PRC, Voter's, Postal, NBI Clearance, School or Company ID with Picture).

7. Puzzle tickets from different 7-Eleven® stores can be combined to complete a photo to claim a prize.

8. All prizes are TAX-FREE.

9. All 7-Eleven® puzzle tickets and claimants are subject to verification and validation.

10. 7-Eleven® reserves the right to refuse to award cash prizes if 7-Eleven® puzzle tickets are found to be tampered with, reproduced, illegible, altered, defaced, torn damaged or has failed any of the validation tests. Any person who commits, conspires to commit or in any way aids in the commission of any act of tampering, counterfeiting, or fraud shall be automatically disqualified from this promo and from all future 7-Eleven® promos.

11. Prizes may be claimed sixty (60) days after the promo or until March 11, 2011 only.

12. Employees and franchisees of Philippine Seven Corporation, its agencies, suppliers, subsidiaries, contractors and stores including their relatives up to second degree of affinity or consanguinity are disqualified from joining this promo.

13. Promo runs from December 1, 2010 to January 11, 2011 only.